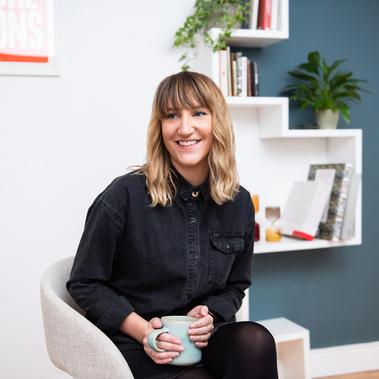 I'm Emma Morton, an award-winning, experienced creative with a knack for finding memorable ways to get your brand noticed. Using visual storytelling to bring brands to life, I combine art direction, design and styling to send brands out into the world with their best face forward. I've helped Uber tell their drivers' dreams, collaborated with Nike to educate about the Girl Effect, and helped Hutwoods showcase their natural ingredients through striking brand imagery and packaging.
Studying design at Kingston University meant creative thinking was never confined to just graphics, and this taught me to think conceptually, seeking creative solutions in all kinds of unexpected ways.

I took my craft-driven approach to work in some of the world's most renowned creative agencies; gaining experience across multiple creative disciplines, producing solutions that pushed the boundaries, as well as working on cultural projects and exhibitions. I have always been passionate about discovering new creative processes — an innovative artist or designer to collaborate with, a way technology can evolve an idea, or thinking of extraordinary ways to approach an everyday problem.

Throughout my career I have been awarded at Cannes, D&AD, New York Festivals, Creative Review and Design Week and although succeeding creatively was rewarding, the lifestyle this created sometimes wasn't. When my work/life balance in London tipped in the wrong direction, I ventured to Australia where I developed an appreciation for the importance of self-care and better buying choices and saw the effect this can have on our health and the environment. Now back in the UK, I work with forward-thinking brands that are sowing the seeds of positive change, and helping to improve wellbeing for people and the planet. Head over to www.stateofkind.uk to see how I'm helping progressive small businesses tell their stories.
www.MortonMadeMe.com is my full creative portfolio
www.StateofKind.uk is where I'm helping progressive small businesses thrive
I collaborate with progressive brands finding unexpected ways to tell their stories through creative thinking and crafted design.

Brand Creation / Identity Design / Packaging Design / Creative Campaigns / Brand Key Visuals / Branded Product Imagery / Brand Books / Look Books
"We have nothing but wonderful things to say about the impact Emma Morton has had on HUTWOODS. We had been in business for 3 years when we engaged her to do a complete re-brand. Our business had grown quite quickly and so we wanted an updated, modern look that could take our brand to the next level. The fact 3 years later, customers still reference the design and quality, speaks volumes. Emma was amazing to work with and we have engaged her for multiple projects since then. She has incredible attention to detail, has big and fresh ideas, and most importantly, she is supper passionate about what she does and so enjoyable to work with. We could not recommend her anymore highly"
Becky Hutley
Founder, Hutwoods
"Emma's ideas add value to the project beyond just good design. I would highly recommend her if you're looking for a Creative who understands how to produce campaigns that are strategic, brand-appropriate and out of the ordinary."
Elena Clarke
Brand Strategist and copywriter
"As LIDDIT was at the innovation stage of the product and brand it was great collaborating with Emma as she helped me with design decisions that would benefit us moving forward."
Heather Beakon
Founder, Liddit
"We were lucky enough to secure Emma for our In Their Hands brief earlier this year. A complex project for the charity Triggerise she brought incredible team management skills and insight to navigate and simplify very complicated narratives. And then told them in an incredibly effective, informative and creative way. Brought to life in film and animation at the Women Deliver 2019 conference, their stand stood out a mile from all others and transformed the way they communicate about themselves. The whole team are now able to explain what they do in a concise, motivating way - and it was equally well received by potential donors and supporters. Emma is that rare mix of being incredibly creative, strategic and organised. A gem."
Tansy Drake,
Founder, Umbrella